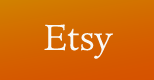 A little while back, my sister-in-law told me about
Etsy
. I had started making
corn bags
(wonderful heat/cool packs) and swaddling blankets for friends, family, and to sell. I hadn't done much with it, but when she mentioned that, I thought I might as well go ahead and post a few things and see what happens. Two days ago someone bought a corn bag! It was fun to have one of my items sell!
Anyway, if anyone is crafty and interested in selling a few of your things, it is definitely something you should check out! Their logo is "Your place to buy and sell all things handmade". It's relatively easy to set up your account and store. You can have a lot or a few things up for sale - or none, for that matter. Plus, I love the variety of stuff people sell on Etsy - very unique to each person and there seems to be something for everyone!
So, I'll be posting another "corn bag" soon, as this is the season to be warming up, along with my other items (and hand towels of my mom's that I've posted).